ECLIPSE EFFECTS
If you arrived on this page looking for information on what kinds of effects a solar eclipse has on the weather, rather than information on eclipse-day weather itself, that's what this section is for. A solar eclipse can indeed have some noticeable effects on the current weather—some subtle and others much more obvious.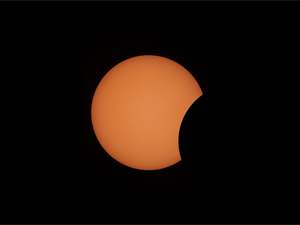 You will probably notice a temperature drop during a solar eclipse. Usually, you can expect about a ten degree (F) drop in temperature during the progression of a total solar eclipse, although drops of even 20 degrees or more have been reported. Logically, the more the Sun is obscured, the more the temperature should drop, although relatively large drops have been reported for some partial solar eclipses (the NationalEclipse.com History page includes a digitized newspaper article from 1834 that, if it can be believed, reports an incredible 28 degree drop in temperature for an 88 percent partial eclipse!)
A drop in temperature during a solar eclipse can cause another eclipse weather effect—one that could possibly aid eclipse viewers. Although it should never be counted on to guarantee clear skies, a temperature drop might help to dissipate a buildup of heat-driven cumulus clouds that might otherwise get in the way of a successful viewing.
The temperature drives many aspects of the weather and the temperature drop that occurs during a solar eclipse can also have an effect on the wind. As the ground cools due to a decrease in solar radiation, the breeze might die down or even change direction. This happens because warm air stops rising from the cooled-off ground. In fact, this is why hot air balloons usually only launch in the morning or the evening when the ground is cooler and the atmosphere in more stable.
Finally, although not a weather effect, per se, some observers have noticed a strange visual phenomenon on the ground during a total solar eclipse called "shadow bands." Occurring shortly before and after totality, shadow bands manifest as rippling patterns of light and shadow reminiscent of what you might see on the bottom of a pool on a sunny day. Although there's still some debate over what actually causes this, the generally accepted hypothesis is that shadow bands are caused by turbulence in the Earth's atmosphere that refracts the light coming from the narrow solar crescent.
TOP